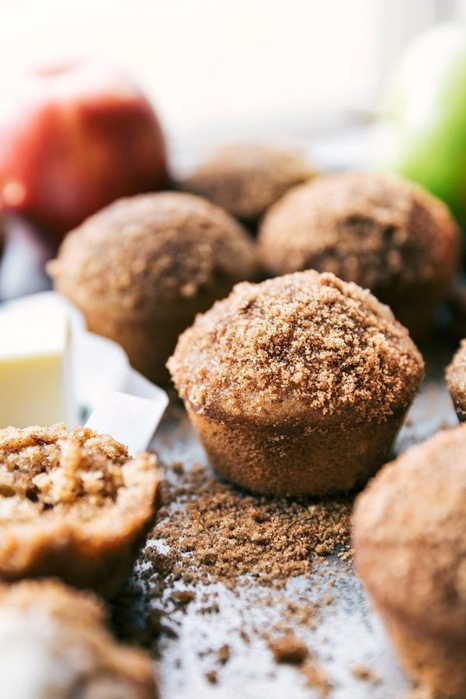 Ingredients


1 and 1/2 cups white flour or white whole wheat flour (мука)


1 tablespoon cornstarch (крахмал)


1/2 teaspoon baking soda (сода или разрыхлитель


1/4 teaspoon salt


1/2 teaspoon apple pie spice*


1 teaspoon ground cinnamon (корица)


3/4 cup applesauce sweetened or unsweetened (яблочное пюре)


1 large egg (яйцо)


1/2 cup vanilla Greek yogurt** (греческий йогурт или жидкий творог)


1/4 cup melted coconut oil (кокосовое или какое другое масло)


1 teaspoon vanilla extract (экстракт ванили)


1/2 cup brown sugar lightly packed (коричневый сахар)


1 cup = 270 ml

Sugared Topping


1/2 teaspoon apple pie spice or cinnamon


4 tablespoons brown sugar not packed


3-4 tablespoons melted coconut oil



Instructions


Preheat the oven to 350 degrees F. Spray 12 cavities of a muffin tin and lightly flour. Do not use muffin liners as these muffins will stick to them. Set aside.


In a large bowl, add in the flour. Add in the cornstarch, baking soda, salt, apple pie spice, and cinnamon. Mix until combined.


In another bowl, mix together the applesauce, large egg, Greek yogurt, coconut oil (measured when melted and then cooled to room temperature before added to the bowl), vanilla extract, brown sugar. Mix until well combined.


Mix the wet and dry ingredients until JUST combined. Over-mixing yields denser muffins.


Fill up 11 to 12 muffin cavities evenly with the mixture -- each cavity will be a little over 3/4ths the way full. You should use all the batter on 11 or 12 cavities so fill them pretty full.


(Fill any empty cavities of the muffin tin with water to ensure even baking.)


Bake for 17-23 minutes or until a fork when inserted in the center comes out clean.


Remove and allow to cool for a few minutes before removing the muffins from the tin. Use a spoon to coax the muffins out after about 5 minutes.


In a small bowl, toss together the apple pie spice OR cinnamon and brown sugar.


In another small bowl add the melted coconut oil.


Dip the warm muffins in the melted coconut oil and then dip them in the sugar mixture. Spoon extra sugar mixture on top and press it into the muffin.


Repeat for all the muffins.


Store leftover muffins in an airtight container in the fridge. Let come to room temperature before eating.


Muffins best enjoyed within 3 days.



Recipe Notes

*This is a mix of spices. The muffins are fine without it, but if you like a spiced muffin, grab this spice mix! **Apple-flavored, Plain, or Vanilla yogurt will all work, but a flavored yogurt is the BEST. Full fat or 1% for best results -- fat free tends to be a bit watery.